Maria Rahmany of
Van City Makeup Artist
gave me eyelash extensions the other day and now I am in love with them! I was a bit nervous because I thought it would be painful or uncomfortable (or that I'd get my eyes glued shut.. yikes!!), but I just about fell asleep a couple times while she was putting them in, now I can't even feel that I have them!
I thought I'd blog about them because they're perfect for weddings (I wish I'd know about them a few months ago!) because they look WAY more natural than most fake lashes I've seen. And they last three weeks, which is a bonus too!
Here's a few before/afters that Maria took for her blog..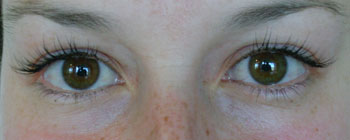 Here's one more that Jin took yesterday (and I'm not wearing any make-up here, just the lashes)